15 DAYS MONEY BACK
GUARANTEED
LIFETIME DEFECTIVE WARRANTY
The Gravity Stake is easy to screw in the ground. If Grandma Mary could do it, you can too.
This stake has seen much bigger dogs than yours (even 2 dogs). The success stories of the Gravity Stake range from Pitbulls to Cane corsos, Bull mastiffs and others. The Stake has held them all.
Enjoy the bonfire, the ocean breeze or the peace of your home while your dog is safely tied to the Gravity stake next to you.
Usable soil: Dirt, Sand, Grass, Rocky (rocks up to 2") & Snow

Dimensions: 14inches by 3inches
Material: High Density Steel with rustproof coating
Color: Black
Designed in Montreal, Canada
Customer Reviews
14/12/2020
Stephanie

United States
Works perfectly!
This stake has been fantastic! Where we live we don't have a fenced in back yard so it been great having Aspen attached to the stake when we're all hanging outside, we don't have to worry about her running off
27/10/2020
ketia b.

United States
Stakes worked out as promised
Good communication from Saker. Packaging and presentation impressive. Product working great. Appreciate a quality business like Saker.
24/09/2020
Tee P.

United States
Amazing Anchor!
Our Miniature American Shepherd is miniature by name only— and not when it comes to size or strength. This stake is very sturdy and heavy-duty—and gives us peace of mind that he will stay grounded during outdoor adventures in spite of his energy level. In addition, the tangle-free ring is quite handy for agility practice in our local park. Thank you SÄKER!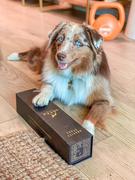 24/09/2020
emmcee

United States
Awesome, convenient tie-out stake!
Used this for the first time about a month ago on a camping trip. It was a little difficult to get into the ground initially but the campsite we were at had very dense rocky soil so I wasn't surprised, but we were still able to get it all the way in the ground. I had tried it in our yard first before we left and it was super easy to put in there, with super soft soil. We'll be using it every time now, though! Seems plenty secure enough. Both my husband and I tugged on it a lot after it was in the ground, and it didn't budge. We purchased two but actually found it very easy and convenient to just have both dogs on one with the limited campsite space we had. Our next trip will have a larger campsite so we'll probably end up using both!
22/09/2020
Amazon C.

United States
Very sturdy stake
We took this gravity stake camping for the first time last month to use at camp. Our Siberian Husky was tied up to it and his friends not far from him were tied to their gravity stakes as well, all of which had zero problems and stayed very secure in the ground the whole time even though the ground was fairly soft material. Overall I'll be bringing this to use at every campground we go to.
18/09/2020
Jeff S.

United States
Top Notch
Very solid addition for your beach, camping or outdoor use. The packaging is great: comes with a bag, a flag (conversation piece) and the box. Works a lot easier that other stakes! I highly recommend this!
5-10 days shipping
We use Amazon to ship our orders (it's faaaaast).
Easy Returns
We hate returning stuff too. So we made the return process easy.
Secured Checkout
You can buy with confidence, all the transactions are handled by Paypal SSL.