Ever heard of Chris de Aboitiz? No? Well, no worries, you're about to.
Basically, the guy's a legend. Former tandem surfing world champion, Chris is now spending his time training dogs.
But not any training... training to surf.
Here's a clip of him surfing with his rescues:
Q: Can you tell us about your dogs, how you got them?
A: My dogs Rama, Lani, Millie & Murph are all from dog rescue centres or giveaways. My dogs are my mates. We are all active and we more or less chose each other.…. what I mean by that is my dogs are high energy, they love running, jumping, playing and like me they are always up for active adventures in and out of the water and love the outdoors, so we have a natural bond, it feels right, we are a good fit.
Now kids, if I was a lower energy person, I would have looked at other dog types to match the energy …it makes sense doesn't it! All my dogs are Australian working breeds, which means they are either Kelpies or a cross breed with Border Collie, Red or Blue Heelers. These dogs are a great fit with me and my family.
Q:How does surfing and SUPing with your dogs strenghten the bond and could anyone do it?
A: When I teach the dogs to surf on a SUP, first I take them for a paddle on my SUP in the flat water, get the dogs use to the board, I tell the dogs when they can jump on or off the board, give the dogs clear instructions to sit, stay, or jump and reward them each time when they follow the command with words like "good boy Rama, or good girl Millie".
We work together as a team, build a relationship, establish trust, a bond, a friendship.
After SUPing on the flat water I take the dogs to a fun place like a sand bar or the side of a river bank where we can all have a play; this way the dogs know that SUP = FUN.

Then the next time I get my SUP out the dogs can't wait for more and more fun and new adventures….and after some time, practice and my love for the ocean and dogs, I began surfing with my dog pack. So with some dedication, water awareness and dog leadership you can get started on the flat water first then work towards SUPping in the surf.
Q: What are your top tips for relating to your dog?
Give structure to your dog's life.
Teach your dog to Sit – Stay.
Learn how you want your dog to behave and be consistent with your expectations.
Have fun with your dog, but set boundaries.
Reward your dog's good, calm behavior as often as you can.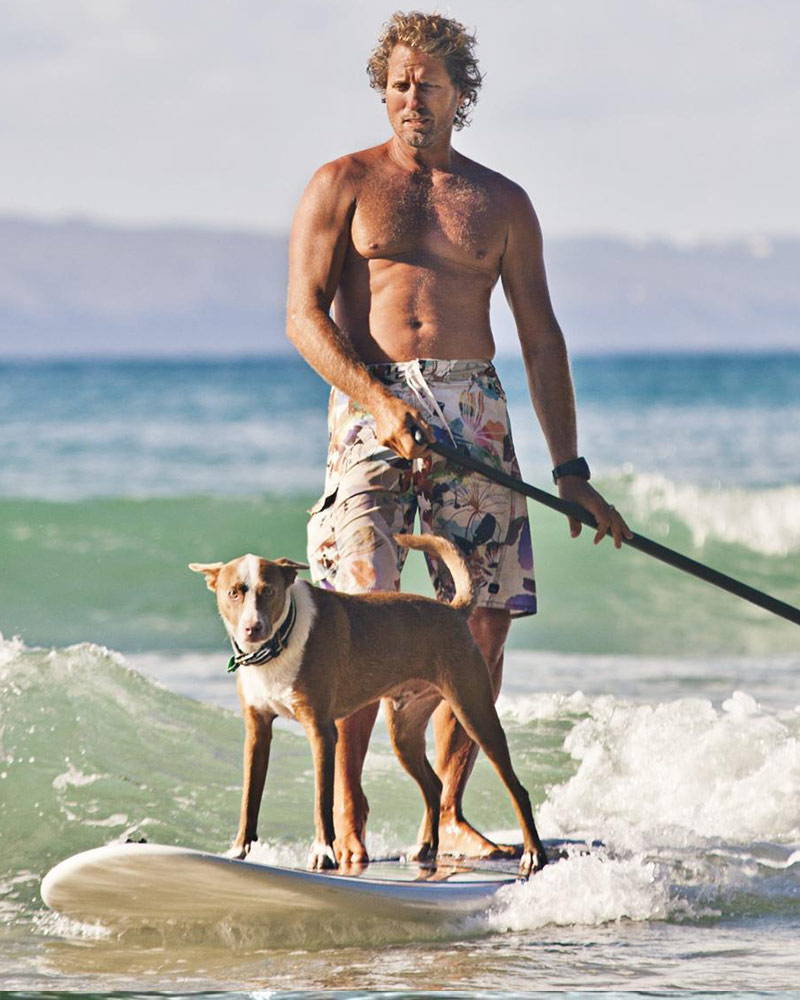 Q: What's the key to surfing with dogs?
A:Dogs love to follow instructions understand their boundaries, know there is someone in charge who they can trust and be rewarded with a loving pat…. dogs really love to please you and most of all to have fun with you, whether it is a game of fetch in your back yard or paddling or surfing on a "stand up paddle board".
Surfing is a question of balance and obeying the commands. If your pup starts moving around on the board when she's not supposed to, you'll end up in the water.
So the key is to show your dog that you're the leader and that she can trust you.
How to train your dog according to Chris.
As a dog trainer, Chris has a set of fundamental principles he's using anytime he wants to train dogs. He made this
PDF summarizing them
.
P.S.
The best way to develop that passion is to be surrounded with other dog owners who love SUP. Check out our community below.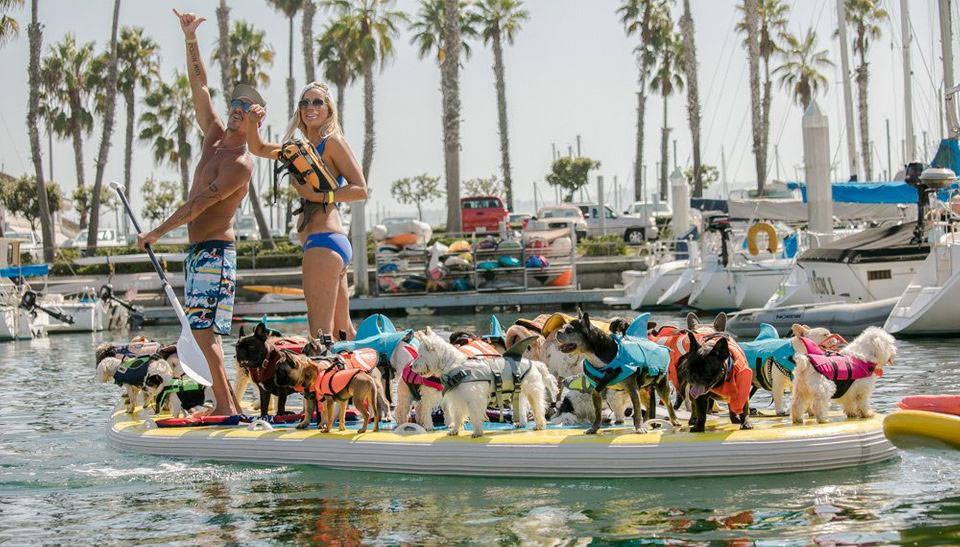 Join a community of dog owners who loves to paddle board with their pups. We believe in building things for the long-term.
If our gear was to let you down, we won't. Nature has given us a playground to explore,
the least we can do is to help preserve it.