Nice to see you here!
Today, we're diving into SUP. Maybe you've done some paddle board before or maybe you just want to try for the first time. One thing is sure, paddle boarding is a great way to spend more quality time with your pupper.
How to SUP with your dog?
The first step is to get your dog comfortable on the board. The easiest way to achieve this is to get your dog familiar with it outside of water. It will be through
land-based
training.
I suggest laying down the board in the house, in the living room for example. But if it's too tight, you can also do this in the yard.
Then, you're going to get on the board in a kneeling position. Remember, the board should be laying flat on the floor (that means you have removed your board's fin). Make sure you have a treat pouch or a few treats in your hands.
Now you're going to call your dog onto the board. As soon as the four paws are on the board, reward your pup with a treat. The goal here is to create a positive connection between the board and the treats. You want your pup to think
"When I get on that big surfboard with my hooman, something fun happens."
That makes sense? Alright, let's move on.
Once your pouch is comfortable getting on and off the board
(we're still in the living room remember?)
, then you move on to teach your dog to stay, sit and lay down on the board. Start with some
"Sit, Stay"
and some
"Down, Stay".
You want to be able to walk away from the board while your dog stays.
When is enough training? Well, we're going to introduce some distractions in the next steps.
"But remember that the stronger that Stay command is, the more chances you'll stay dry on that first try on the water."
Time to introduce distractions. One of them distractions is the lifejacket. Depending on how comfortable your dog is wearing a lifejacket, that can be pretty challenging.
But that's what we like, a challenge, no? Yes we do.
So put the lifejacket onto your pupper and practice some
"Sit, Stay"
and
"Down, Stay"
again.
Now you'll want to introduce the paddle to your pup. That's the last thing standing between you two and a fun SUP adventure. What you do is you stand on your board with your dog also on the board in front of you. Then you grab that paddle and start
air-paddling
.
Because that paddle will go over your pup's head as you're paddling left and right, you want to make sure your dog gets used to it.
As your dog stays on the board and ignores the paddle, reward her.
Before leaving, make sure you have a treat pouch to reward your pup while on the water. The treats might get soaked if you fall off, but that's totally worth it. Having treats will give your pup something else to focus on.
Before that first training on the water, you should wear out your dog a bit. That's something I recommend you do before
every
SUP adventure.
It's hard to ask your dog to sit still for the whole ride if she just spent the day inside while you were at work.
So go ahead and play before getting on that board.
If the beach allows it, have some fun in the water with some water toys and your pup.
A game of fetch is a great way to exhaust her while keeping you energized.
You're ready. Put the board in shallow water (or half way in) and get on the board onto your knees.
Call your dog onto the board the same way you did during the land-based training.
Stay on your knees!
(for that first outing at least)
The knee position is much more stable than standing. Plus you're closer to your pup which makes it reassuring and comforting for her.
It's not a race, take as long as you want (1,2,3 or 4 outings) before standing up, the key is to get you and your dog comfortable and stable before sending it.
Have fun!
and keep the first few rides short.
Sooner than you think, you two will have the best time exploring lakes and rivers.
P.S. Do me a favor, no matter how wet that first outing goes, give it a second try. Paddle boarding with your pup is something really fun and with a bit of time and practice, you two will enjoy it.
P.P.S.
The best way to develop that passion is to be surrounded with other dog owners who love SUP. Check out our community below.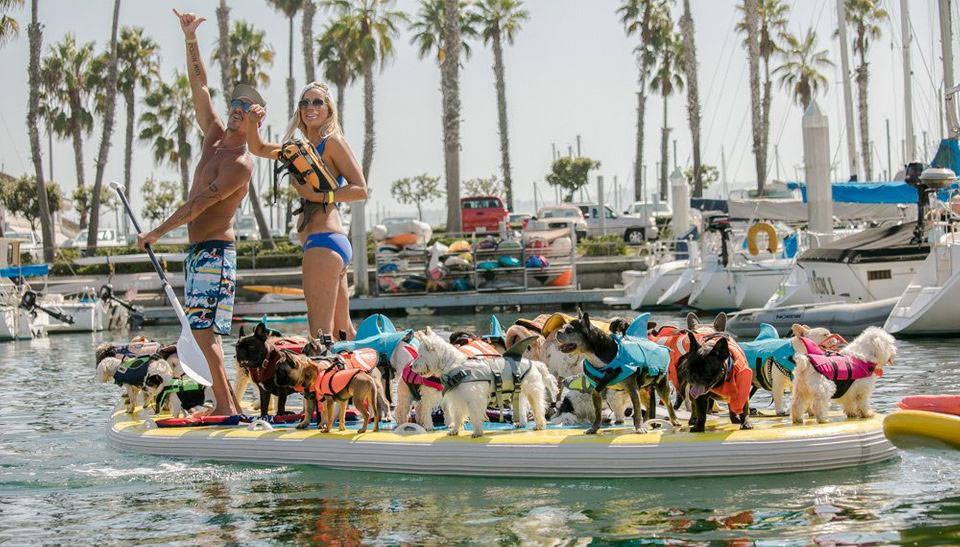 Join a community of dog owners who loves to paddle board with their pups.
What is the best paddleboard for my dog and I?
There's a few things you should look for when choosing the best paddle board for you and your dog: You want a board that's wide, stable and offers plenty of traction space for your pup to grip. For your dog, it doesn't matter if it's inflatable or a hard board, as long as most of it is covered with grip. If you want more details go to What is the best paddleboard for my dog and I? where our community elected the best board to SUP with a pup.
Is it easier to kayak or paddleboard with a dog?
If the question is solely what's easier, the answer is kayak (an open one obviously). In general, the kayak is more stable. You're much closer to your dog to calm her or intervene if she was to go crazy.
Finally, you don't have to constantly move your paddle over your dog from left to right with a kayak which reduces the distractions.
However, if you tweak the question and ask what's the most fun, now that's up to you and your needs.
Are inflatable paddle boards durable for dogs?
Yes, if you've seen an inflatable paddle board (or iSUP) before, you know how thick that plastic/rubber is. There's no way your dog's nails would puncture it. About the nails, as we said before, the more grip there is, the more your pup will love it. Well, there are many after-market products that you can buy, it's a traction pad, very similar to a yoga mat, you see? And you install them like a sticker. I suggest you research "traction pad for [XYZ] paddle board" and you'll find what you're looking for in minutes.

The only exception would be if your dog chewed on it. But hopefully that shouldn't happen... Your dog shouldn't have access to your iSUP once deflated if she's the super-chewer type.
Will my dog pop my inflatable paddle board?
The short answer is: no, your dog won't pop or break your inflatable paddle board (or iSUP) with her nails. The rubber on these boards is very thick and most of the deck is covered with grip mat.
If your dog is a super-chewer, make sure she doesn't have access to your deflated iSUP. She could chew on it if she's bored. An inflatable paddle board wouldn't resist long against the jaws of a ferocious chewer. We believe in building things for the long-term.
If our gear was to let you down, we won't. Nature has given us a playground to explore,
the least we can do is to help preserve it.